Well, we're here. A week and a day out from Match!
Of all the questions first year applicants come to me with, this is the number one question: "How did you survive?" I know that sounds dramatic but the point is this. These last few weeks (and now days) are tough! With each passing day, you can plan less and less of your future. Do I need to sign up for annual bloodborne pathogens training in May? Do I want to book Buddy's next grooming appointment here in Utah? How much will June rent be?
IDK
Here at the end of the cycle, everything feels "on hold" as we await Match Day. Everything feels uncertain, and for many of us, our friends are accepting jobs or positions in grad school, and we just feel behind. And it definitely doesn't help that people frequently forget about Match Day and ask if you've gotten any acceptances yet. But we get it; this process is weird and unfamiliar to many people.
This week I wanted to talk about surviving the uncertainty. We've already made it through a lot of uncertainty up to this point. We're almost there. But what if Match Day only leads to more uncertainty. If I don't match, it definitely will. Where will we live? What job will I do? Where would I apply again? And of course my favorite cognitive distortion: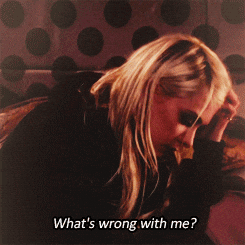 Everybody, if you don't match, whether it's your 1st, 2nd, 3rd, or whatever cycle– there's nothing wrong with you. I have a couple of favorite posts from a blog called How I Got Into Veterinary School. I've talked about this before, but vet school is one of the only professional degrees with a lower acceptance rate that genetic counseling. It's dang hard to get into. Of all the posts on there, I don't really relate to this one in which a girl named Emily gets into 7 vet schools on her first try. No disrespect to the hard work she put in to get there, of course.
I am however, into these two posts from vets who took five and six cycles to matriculate in vet school. Do I hope that's me with GC school? No. But seeing others put in this level of dedication to their dreams, even in the face of so much rejection, inspires me to keep going. In the end, it didn't matter how many cycles they took to get in. They're vets now. It also won't matter how many cycles it takes for me to become a GC student, as long as I don't give up.
But it can definitely be scary to enter a gap year you weren't expecting or hoping for. So let's break down a few ways to cope with that prospect.
Do something you've always wanted to do
I think the coolest thing about gap years is having this extra time for maybe the first time in your life. Time to do something you've never had the chance to before! A lot of us have been in school for our whole conscious memory or focused on getting competitive for grad school for several years. It makes sense then that unexpected gap time is scary. Some of us aren't used to living outside of sixteen-week semesters, part-time employment, and constantly learning. And even if you've already taken some gap time, taking more that you didn't want can feel like a bummer.
I found myself in this situation last year, and this is what I did.
That's right, we adopted a dog. Lol. With neither of us in school, we had the time and money to devote to adjusting to life with a dog.
I've already talked too much about Buddy for a blog that is supposed to be about genetic counseling, haha. But this year has provided me the cool opportunity to be an adult outside of school for really the first time, and to pursue grown-up things I've always wanted to. So in a gap year, do something you really want to! Travel, learn a language, pick up a new hobby, volunteer in a new capacity, whatever it takes to remind you that you're more than just a future grad student. You're a multi-dimensional person who is not defined by Match Day.

Do something you've been putting off

A lot of you know that I'm having surgery tomorrow to correct an orthopedic problem with my right baby toe. My toes, particularly this baby toe, have been crooked, curled, and often painful for years (yes, including while I was training for a running marathons). When I was in full-time school with student health insurance though, getting my little toe looked at was the last thing on my mind. Well guess what that led to…..?

Notice how all of the other toes have three phalange bones and the baby toe only has 2 phalanges and some fragments in the middle of them. That's right, I wore down AN ENTIRE BONE into fragments. Yikes. Without this gap time in which I have the time and insurance to give attention to my baby toe, who knows if I would have made the time for it before I wore another bone down to nothing?! Lol.

Gap time is a wonderful time to address an issue you've never had the time or money to before. One really excellent thing to do in a gap year is prioritize mental health by getting in to see a psychiatrist or counselor if you've thought at all about doing so and haven't yet. That's another thing I did in my gap year and I'm so glad that now I can go into grad school in a much better state of mind, whether that happens this fall or not. You might also take gap time to pay off undergrad loans, start saving for a house or retirement (👴👵!), spend more time with family or your significant other, or any number of other good things that are hard to prioritize during school. You can come out of your gap year with life more in order and more ready to give your all to grad school.

Improve Your App

Obviously! I did a whole post on asking for feedback a few months ago. But you don't even have to wait for feedback to get started on improvements. We're all smart and we all have a sense of where we are and where we'd like to be. You can break down your app into the major parts and think about which parts you wish to improve, and how you can do it.
The main parts of the app are: grades, GRE, personal statement, letter of rec, GC exposure and experience, advocacy, and eventually the interview. As you work to make a back-up plan, pick a few areas of your app you feel are weaker, and then list a few ideas of how to improve. Simple! But then, I feel it's really helpful to organize those goals into a calendar for the coming year. What will you do in May? What could you take on this summer? When will you retake the GRE, for example, or when do you plan to ask recommenders for their letters. Having this kind of outline for my gap year helped me feel so much more "in control" on Match Day. I didn't have to panic and think "what now?". I had ideas and plans of good things I wanted to do with my gap time, and thereby, I reigned in the uncertainty.
*****
These last few days before Match, things are going to feel tense and uncertain. And that's ok! Matched or not, things get better after Match Day. You can sleep well again, you know, at least somewhat, what comes next, and yay, it's almost summer! This stressful time will end, and I am so hoping it ends happily for most of us.
I'll see you all next Thursday for the last post before Match!
-Laura Cooper-Hastings