Hi.
You might be wonder what the heckin' blog you're reading. Welcome to Career of Compassion. It's Journey to Genetic Counseling, but with a new twist. You see (and this is going to sound like me being an iNfLuEnCeR again, but) I never really expected J2GC to get this big. All throughout the 2019 GC cycle, I was excited about the unexpected growth. The number #1 thing I worried about though was not matching and having to write about it on here. As you know, that ended up happening, and then unhappening, and then happening again, but with more cheese the 2nd time. 🧀 But the point is, I started to live in the constant fear of disappointing you guys. I think it's called content creator burnout and it's not really something I foresaw happening in my life but here we are lol.
I started to wonder what happens if I apply again and don't get in, or a fourth time and don't get in, or if I find a job in Arizona that leads me to a career I never expected, or if I decide hey I love NICU and should be a NICU nurse or or or…
So, what we're getting to here is I made an investment in my mental health. For the bargain deal of $18, I bought a new domain name. This is Career of Compassion Blog, and it is absolutely still a place to learn about and share in the journey to a genetic counseling career. 😃After all, genetic counseling is one wonderful, amazing career of compassion.
The only difference in the blog, is now, other compassionate people are invited too! And I don't have to worry that if I happen to become an "other compassionate person" instead of a GC, that I no longer belong on my own blog.
Here's the idea of the revamped blog– a lot of people "want to help people" in their jobs. Like I would venture to say upwards of 90% of people want their job to be somewhat helpful to the world, right?
But it can be difficult to find your place in the general field of "helping". From mental health work to medical research to the job I'm interviewing for today (in which I would be coordinating body donation pick ups) there's so many compassionate careers! These are careers that take a person out of the "working for the man" / "making someone else's dream come true" world and instead, allow the employee to receive pay for improving others' lives.
These wonderful careers are unfortunately often difficult to get into, as you've seen in the past 8 months on J2GC Blog.
Nursing, Vet, Doctor, PA, Speech Language Pathology, Occupational Therapy, Mental Health Counseling– all the things are hard to get into. I figure we can all bond about that here. ❤️
So basically, I changed the focus of the blog from just about genetic counseling, to the general struggle to edge your way into a dream compassionate career. And after we've all succeeded and gotten in (because we will!) we can talk about a lifetime of compassionate work.
Oof, I gotta find more words so I'm not "compassion"ating your brain out!
I hope that with this change, this blog becomes less of "that GC app tip blog" and more of a lifelong allied health community. I hope to have more interviews with different kinds of health professionals, to talk about medical ethics, and to continue to journey with you all as we find our place in the world.
This way, I don't feel like I'm that GC blog girl and I can never change and my followers will be disappointed if life ends up leading me somewhere else. Plus, we can invite more blog dogs to join the party and be our allies in helping others!
What could be better? 🤗
BUT LAURA WHY DOES THE BLOG'S TWITTER HAVE SO MANY TEDDY BEARS
If you haven't yet, go follow @WarmFuzzyCareer on twitter– the new Twitter handle for this blog. You'll see I've made a lovely new logo and yes added a lot of teddy bears to the cover photo. Hear me out on this, I think that teddy bear should be the mascot of CoC Blog. We want jobs that bring us the warm fuzzies and make us feel like we did something good. We are also tenacious and brave (like a bear!) for being willing to go through grueling app processes to get to such a career. Thus, the teddy bears.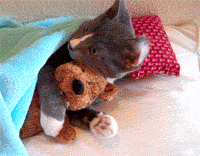 So, apologies that this is kind of a weird post, and that the site probably looks a bit under construction right now. I will be continuing to update it and bring you more topics about prepping for GC, plus what ever related topics strike my fancy. Next week, I really want to talk about finding in person counseling opportunities. ❤️
Til then,
Laura Cooper-Hastings